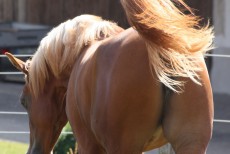 2018-10-03 - Welcome our filly MOMBASAH from UK !!!

We had leased her mother, Misstivai from Stival, a daughter from our beloved MOZAMBIC... to covered her with the famous stallion ALONZO from Abha Qatar !
The result is fantastic... and now in our stable for a future breeding mare to our amazing OM EL SHAZEEM!
Alonzo and Misstivai are also breed from our friends in UK, phoenix-arabians!!
Thank you Michelle!!!